CCC Notice Number 2 of 2016
The COMESA Competition Commission (the "Commission") would like to remind parties to mergers and acquisitions, the general public and all concerned stakeholders, who are required to make fee payments to the Commission that whenever such payments are made, the Commission should immediately be alerted indicating the names of the parties concerned and the details of the corresponding transaction. This is in order to facilitate timely consideration and conclusion of cases before the Commission.
All concerned stakeholders are therefore requested to submit, to the Commission, a copy of the telegraphic transfer as proof of payment through the following contact details:
The Director and Chief Executive Officer
The COMESA Competition Commission
Kang'ombe House, 5th Floor West Wing
P.O. Box 30742
Lilongwe 3, Malawi
Email: COMPCOM@comesa.int
The Commission wishes to thank you for your continued support.
All payments of fees should be made to the following accounts: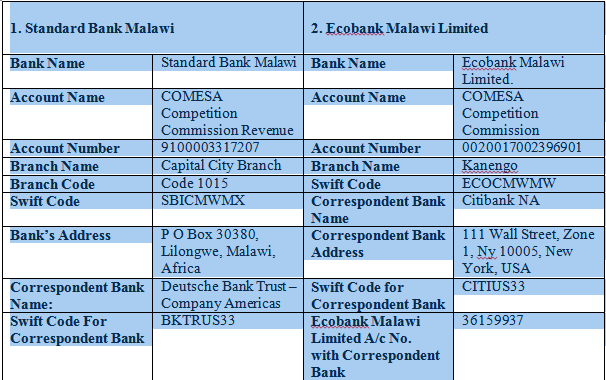 *Further, kindly note that all payments made to the Commission through the EcoBank Malawi Limited account should include a transaction fee of $15 which the bank deducts upon payment's transfer to the Commission's account.