The COMESA Competition Commission Signs Memorandum of Understanding With the Competition Commission of the Democratic Republic of Congo
 April 20th, 2021 
 Competition Commission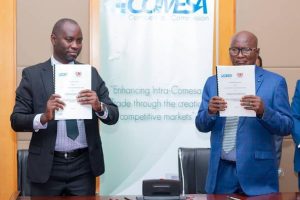 The COMESA Competition Commission ("the Commission") is pleased to announce that the Commission concluded a Memorandum of Understanding (MOU) with the National Competition Commission of the Republic Democratic Republic known as "Commission De La Concurrence (COMCO)." The Ceremony of signing the MOU was held on 19th April 2021 at BICC Conference Hall, in Lilongwe, Malawi.
The Signing Ceremony was represented by the Acting Director and Chief Executive Officer of the Commission, Dr. Willard Mwemba, and the Interim Coordinator of COMCO, Commissioner Trudon Kalala Nzembela. Further, the Ceremony was attended by the representative of the Principal Secretary of the Ministry of Trade of the Republic of Malawi, Mr. Clement Kumbemba; Board member of the Commission, Commissioner Justice Charlotte Wezi Malonda; Executive Director of Competition and Fair-Trade Commission of the Republic of Malawi, Mr. James Kaphale; the Deputy Coordinator of Finance and Administration of COMCO, Mr. Herman Ilambi Kyemo Nzoma; and Management of the Commission.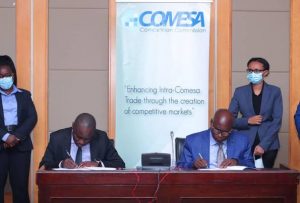 The purpose of the MOU is to promote and facilitate cooperation and coordination between the two institutions in the harmonisation of regional and national laws and policies of Member States and lessen the possibilities or impact of difference.
The signing of the MOU is expected to facilitate the following amongst others:
Closer cooperation between the Commission and COMCO in the form of notification, exchange of information, coordination of actions, and consultation;
Cooperation between the two institutions in advancing technical assistance and capacity-building programs through integrated strategies; and.
Provide an enhanced platform for the Commission and COMCO to address some of the procedural and substantive challenges that are likely to arise in cross-border investigations in competition and consumer protection matters.
This MOU is the eleventh cooperation framework that the Commission signed following the MOUs with other ten COMESA Member States namely: Egypt, Eswatini. Kenya, Madagascar, Malawi, Mauritius, Seychelles, Sudan, Zambia and Zimbabwe. The Commission intends to strengthen the framework of the MOU with COMCO through regular implementation action plans.
Click here to download the Press Release on the Signing of the MOU between the Commission and COMCO
Click here to download the English version of the MOU between the Commission and COMCO
Click here to download the French version of the MOU between the Commission and COMCO